The Company

SodaStream
is the world's largest manufacturer, distributor and marketer of Home Carbonation Systems. Our brands are sold in over 40,000 retail stores in 41 countries including home & electrical appliance stores, hypermarkets, supermarkets, department stores, convenience stores, DIY, specialty and "green" stores, water specialists & dealers, as well as online and in catalogs.
Our long standing and deep heritage dates back to 1903, when we introduced innovative solutions to the beverage market. We continue to grow as market leaders in both technological advancements and the quality of our products.
The SodaStream system enables consumers to carbonate water and to flavor carbonated beverages at home as an alternative to purchasing pre-packed bottles or cans. This has many important benefits to the consumer including cost savings and no hassle with bottles.
Every year SodaStream provides 600 million liters of carbonated beverage to millions of households, making it one of the largest beverage companies in the world.
The Review

I generous people at Soda Stream sent the
Fizz Soda Stream
in RED perfect for the upcoming Holidays.
Speaking of holidays it felt like Christmas when I opened the package. Look at everything they sent me to try!!
1 60 liter
Carbonator
1
Carbonating Bottle
8 full size
SodaMix
and
Sparkling Naturals
flavors
MyWater flavor essence pack
Variety 12 pack
The
Fizz Soda Stream
comes with some great new features: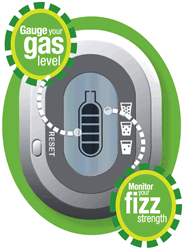 *Never Run Out of Gas. The Fizz Chip's gas level indicator monitors the amount of CO2 left in the carbonator, so you'll know when it's time to exchange your carbonator for a full one.

*Monitor Fizz Strength.
The Fizz Chip shows the carbonation level in your drink as you press the carbonating button. You'll make your favorite fizzy drinks perfect every time!
With the holiday season just around the corner, what could be better than being able to make your own soda for your gatherings? Nothing! Imagine being able to provide your guest with fresh sodas of their choice. It literally takes seconds to make a liter of soda.
Step 1: Fill bottle with water
Step 2: Screw bottle onto Soda Stream
Step 3: Press lever 3 times to add carbonation
Step 4: Add desired flavor and shake lightly
Step 5: Serve and enjoy!
You can vary the amount of carbonation and flavor to make the perfect soda for you. My hubby adds more carbonation and I add less flavoring.
You can even let your guests make their own soda - they will get a kick out of that. Be sure to purchase a few extra bottles to keep on hand. I cannot wait for my first holiday get together with my new
Fizz Soda Stream
! It will be the hit of the party!
Enjoy the convenience of homemade soda and protect the environment. Simple to clean and reuse. So… do you still do bottles?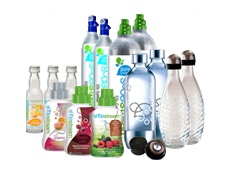 The advantages of SodaStream's Home Carbonation System include:
Convenience:
No need to carry heavy bottles from the store. The SodaStream system is simple to use and requires no batteries or electricity.
Environmentally-Friendly
: SodaStream is an "Active Green" solution that minimizes the huge eco-footprint caused by the manufacture, transport and waste of plastic bottles.

Variety
: SodaStream offers over 100 flavors to suit everyone's taste. Regular, diet, natural, fruity flavors, ice tea, energy drinks, sport drinks, tonic and many more.

Space Saver
: No need to store bottles of beverages or empty bottles for recycling in your home.

Personalization
: Make drinks just the way you love them… more bubbles, less bubbles, sweeter or lighter, even create your own flavor!

Family Fun
: The system is quick and easy to use. It's fun for everyone and kids just love it!

Value for Money
: Great savings compared to pre-packed carbonated water and beverages.

Satisfaction Guaranteed
: SodaStream drinks makers are of extremely high quality and include a money-back satisfaction guarantee.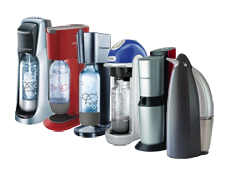 They have several different models to choose from including:
Fountain Jet
,
Genesis
,
Pure
,
Fizz
,
Crystal
and the
Penguin
. Each is stylish and unique with various features.
Buy a
Soda Stream
for yourself and one to give as the perfect Christmas gift for the soda lover on your list.
The Soda Stream and accessories can be purchased from their
online store
or at these
major retailers
.
Be sure to follow them on
Facebook
and
Twitter
for information on their products and promotions.

Disclosure
Product was provided for review, no monetary compensation was received. My product review is my honest opinion. Due to the new FTC rules, I was under no obligation to review any product if I so choose, Nor was I under any obligation to write a positive review.

sunrae

Freebie Addict




Posts

: 1781


Join date

: 2010-06-02




---
Permissions in this forum:
You
cannot
reply to topics in this forum