So, I have found a new love! What I am about to share with you is one of my new favorite things! Do you hate planning out your weekly dinner meal plan? Well, I detest it! We always eat the same meals week after week and our dinners have became somewhat boring! I stumbled upon a really neat website called
emeals.com
. To get started with emeals.com, all you do is choose a meal plan based on your eating style, your family size and even your favorite grocery store. Then, you will start receiving your meal plan with great recipes to your inbox every week, complete with seven simple, creative, family friendly dinner recipes. Each includes an entrée and side dishes. Along with the meal plan, you'll receive a detailed grocery list organized by section and coordinated with the weekly sales at selected stores. They take care of the meal planning, the grocery list and the budgeting — while you take credit for making healthy, home-cooked meals that your whole family will love!
As I stated earlier, I LOVE emeals.com. It has made my life soo much easier! Some of the things I love about emeals is that you can select your favorite grocery store to shop at and it will organize your meals around what your store has on sale for that week. There is even an emeals app that I am able to use on my Android! It puts my shopping list and recipes right on my phone. It doesn't get any easier than this! There are several meal plans to choose from like Classic, Paleo, Slow Cooker, Low Carb, Low Fat, an Vegetarian among others. I like that these dinners are not expensive meals, they are very much within our budget. And, so far, my husband and I and our four boys (who can be quite the picky eaters) have loved every recipe we have tried!
emeals is hosting a Yeti Tundra 45 cooler giveaway! This cooler is valued at $330.00. Check it out
here
for your chance to win it!
Now is the perfect time to sign up for emeals. New members get a FREE tailgating menus when they sign up for eMeals! Here is a sample recipe from the tailgating menu.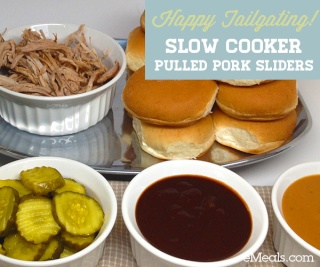 Slow Cooker Pulled Pork Sliders (Tailgating Menu):
Ingredients:
6 lb bone-in pork shoulder roast, trimmed
2 teaspoons salt, 2 teaspoons pepper
18 oz bottle barbecue sauce
1/2 cup chicken broth
2 tablespoons apple cider vinegar
2 (12-count) packages slider buns
16 oz jar bread and butter pickles
Directions:
Sprinkle roast with salt and pepper.
Combine roast, barbecue sauce, broth and vinegar in a 5- to 7-quart slow cooker.
Cover and cook on Low 8 hours or until roast is very tender.
Remove pork to a cutting board; shred with 2 forks.
Return pork to slow cooker, and discard bones.
Toss pork to coat with sauce; serve on slider buns with pickles.
Today, September 23rd, is National Family Day. To give you some ideas to partake in National Family day with your family, check out this 
FREE PDF
 with Family Week activities and recipes in it!
Wouldn't a meal like these Florentine Lasagna Rolls be a great way to connect with your family around the dinner table?
Florentine Lasagna Rolls (Clean Eating)
12 uncooked whole wheat lasagna noodles
3/4 lb ground round
2 cloves garlic, minced
28 oz can no-salt-added San Marzano tomatoes
1 tablespoon tomato paste
10 oz package frozen chopped spinach, thawed
3 (4 oz) containers 2% low-fat cottage cheese
1 large egg
1/2 teaspoon salt, 1/2 teaspoon pepper
2 cups shredded part-skim mozzarella cheese 
1.      Cook noodles according to package directions.
2.      Meanwhile, brown ground round and garlic in a large nonstick skillet over medium heat 8 to 10 minutes, stirring to crumble.
3.      Add tomatoes and tomato paste; use a wooden spoon to break tomatoes into small pieces.
4.      Bring to a boil; reduce heat, and simmer 15 minutes or until thickened.
5.      Meanwhile, squeeze spinach between paper towels to drain.
6.      Combine cottage cheese, egg, spinach, salt and pepper in a food processor; cover and process until blended.
7.      Line a 13x9-inch baking dish with heavy-duty nonstick aluminum foil, allowing several inches of foil to extend over sides.
8.      Spread cottage cheese mixture evenly on one side of each noodle.
9.      Roll up noodles, jelly-roll style, and place, seam sides down, in prepared dish.
10.  Pour ground beef mixture over rolls; top with mozzarella cheese.
11.  Cover and freeze 2 to 3 hours or until firm.
12.  Remove from baking dish by holding edges of foil; fold foil over lasagna.
13.  Wrap in additional foil, making sure it is tightly sealed.
14.  Freeze up to 1 month.
15.  To serve, thaw in refrigerator overnight.
16.  Preheat oven to 425 degrees.
17.  Place foil-wrapped lasagna in a lightly greased 13x9-inch baking dish.
18.  Uncover top, and bake 30 minutes or until thoroughly heated and lightly browned.
These are just two great examples of the meals that you can receive in your inbox every week. If you want to learn more about emeals, you can connect with them on their website
here
, on
Facebook
, on their
Blog
, on
Twitter
and on
Pinterest
.
Review Disclosure
FREE product was provided to facilitate this review. No monetary compensation was received. My product review is my honest opinion and is not reviewed or edited by anyone. Due to the new FTC rules, I was under no obligation to review any product if I so choose, Nor was I under any obligation to write a positive review or sponsor a product giveaway in return for the FREE product/s received.

Scatter_Brain

Product Review Manager




Posts

: 623


Join date

: 2011-05-09


Age

: 41


Location

: North Carolina



Great Review.... I will have to check them out. Sounds very helpful when it comes to dinner plans and shopping trips

Litlbel

Product Review Manager




Posts

: 2297


Join date

: 2010-01-22


Location

: Prescott, AZ



Thanks for the review and recipes!

wicked1

Freebie Addict




Posts

: 1214


Join date

: 2009-09-19


Location

: The State of Confusion



I actually used this site for a few months it was great
nice review

mzak

Freebie Scavenger




Posts

: 101


Join date

: 2011-02-06




---
Permissions in this forum:
You
cannot
reply to topics in this forum