VSL #3
is a potent probiotic medical food that delivers the highest available concentration of beneficial live bacteria of any probiotic in the world.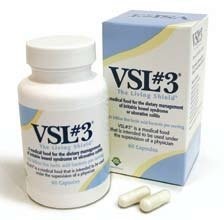 There are three formulations of
VSL #3
:
Capsules
that contain 112.5 billion live bacteria
Packets
that contain 450 billion live bacteria
Double Strength (DS) packets
that contain 900 billion live bacteria. Due to the potency of this formulation,
VSL #3
DS is a prescription only
medical food.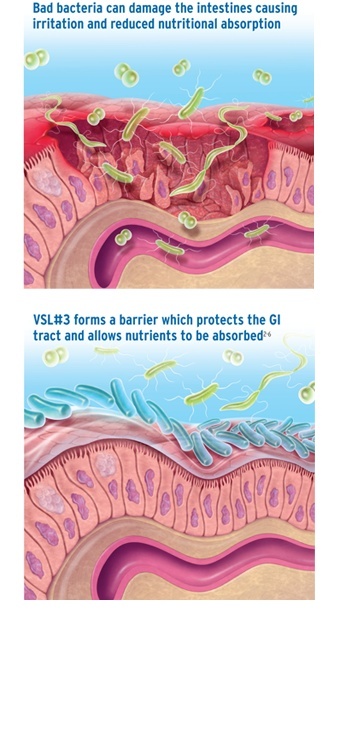 According to the latest definition, a probiotic has to 'confer a benefit to the host.' The following benefits are taken from studies of
VSL #3
.
VSL #3
acts as a protective barrier in the gastrointestinal (GI) tract.
VSL #3
works by colonizing the GI tract with optimal quantities and types of probiotic bacteria. These bacteria adhere to the walls of the GI tract and form a barrier that protects the inner layer of the gut from pathogens. Pathogens release toxic substances that can cause a reduction in the number and type of bacteria in the intestine, which can affect a person's intestinal health.
The human GI tract has thousands of billions of resident bacteria called commensal bacteria. In order to change the composition of this gut flora in a positive way, an extremely large amount of probiotic bacteria is necessary.
VSL #3
is the only probiotic preparation that delivers enough bacteria to beneficially affect the gut flora in patients with serious intestinal disorders, and why one of the formulations requires a prescription, even though it is a medical food
VSL #3
bacteria make it all the way through the GI tract.
Irritable Bowel Syndrome
Ulcerative Colitis
VSL #3
probiotic confers a benefit to the host.
At the cellular level,
VSL #3
affects a variety of substances (such as immunoglobulins (Ig), interleukins (IL) and enzymes) that are involved in gut function. This is important to ensure the correct absorption of nutrients (such as lactose) and to maintain barrier function.
Finally, evidence suggests that
VSL #3
can reduce intestinal permeability by tightening the junctions between the cells in the outer layer of the intestine which reduces the likelihood of translocation (pathogens moving from the intestine into the blood).
VSL #3
Must be stored at in a refrigerator or at 36-46°F or 2-8°C; in the case of travel, it can be kept at room temperature for up to 2 weeks without any loss of potency.
I have been trying
VSL #3
for almost a month now and have noticed a big difference in the way i feel. I have not been as gassy or bloated feeling. I was also on a vacation to Mexico and usually come home with a VERY upset stomach and using the restroom a ton. This time i starting taking
VSL #3
about 6 days before and continued the whole week i was gone. This was the 1st vacation i did not come home with problems.
VSL #3
really helps.
Disclosure
FREE product was provided to facilitate this review. No monetary compensation was received. VSL #3 is providing the prize(s) for this giveaway. Giveaway ends August 24, 2012 at 11:59PM PST. Open to US residents only. Winner will be picked via Random.org and announced the following day. Winner will also be pm'ed and will have 48 hours to reply before another winner is chosen. My product review is my honest opinion and is not reviewed or edited by VSL #3 . Due to the new FTC rules, I was under no obligation to review any product if I so choose, Nor was I under any obligation to write a positive review or sponsor a product giveaway in return for the FREE product/s received.

Litlbel

Product Review Manager




Posts

: 2297


Join date

: 2010-01-22


Location

: Prescott, AZ




---
Permissions in this forum:
You
cannot
reply to topics in this forum