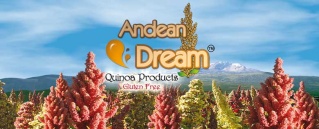 The Company

Andean Dream was founded by Ingrid Hirstin Lazcano, a Los Angeles businesswoman, through the inspiration of her husband Fernando, a former Bolivian career diplomat.
Ingrid learned of the benefits of quinoa first-hand while working on a public relations campaign in 2005 with a research scientist and author who specialized in improving health through eating alkaline-rich foods. Intrigued by quinoa, she started eating the grain on a regular basis and noticed a significant increase in energy and a true feeling of well-being. This sparked her desire to create a line of products to share the benefits of this unique super food with U.S. consumers.
In 2006 Ingrid traveled to Bolivia to locate the world's finest quinoa. High in the Bolivian Andes she found Royal Quinoa, which is prized over other quinoa varieties for its high protein and amino acid content. She quickly established a business relationship with Andean Valley, Bolivia's largest exporter of organic Royal Quinoa, whose programs help create sustainable family businesses for the indigenous farmers of Royal Quinoa.
In 2006 the first
Andean Dream
cookies were introduced in Whole Foods Markets, and then, in 2008, Andean Dream launched its line of quinoa pastas.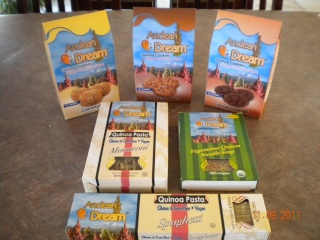 The Review

I received the Chocolate Chip, Cocoa-Orange and Coconut cookies, Macaroni and Spaghetti pasta plus the Vegetarian Quinoa Noodle soup to review.
Quinoa Cookies
We've spun this healthy, golden grain into our Andean Dream Quinoa Cookies. The five flavors are all gluten free, and do not contain any dairy products, eggs, soy, corn or nuts. We have individually packed our cookies for you in a convenient single serving packet, fully recyclable. Perfect to grab for a quick snack, and for school lunches and backpacks!
Cookies are available in five varieties . . . Orange Essence, Chocolate Chip, Cocoa-Orange, Raisins & Spice and Coconut.
I tried the Chocolate Chip, Cocoa-Orange and Coconut cookies. I really liked the Cocoa-orange cookies, chocolate with a hint of orange - yum! These cookies are crunchy and light. My hubby preferred the coconut ones and we both liked the chocolate chip. These are great cookies for people with gluten allergies or anyone who wants to eat organiclly.
Quinoa Pasta
Andean Dream Pasta contains 24 grams of protein and 21 amino acids in an 8 oz. box. Our pasta cooks to an excellent flavor and texture, never mushy. Especially easy to cook, it can be enjoyed year-round because it is versatile and light. Andean Dream Quinoa pasta is not only gluten free, but is also organic, and kosher. It is also completely corn and soy free.
These pastas are made with only Organic rice flour, organic quinoa flour. I cooked the spaghetti last night and we could not tell the difference from other whole grain pastas.
I like products like Andean Dream's pasta make preparing healthy meals for my family easy and tasty.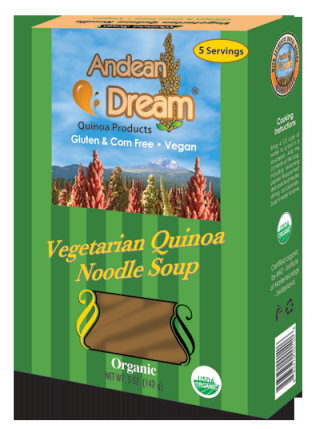 Quinoa Soup
Andean Dream Quinoa soup is gluten free, organic and vegan as well. Likewise, it is rich in protein and essential amino acids. Our soup contains Quinoa noodles, Quinoa grains, organic vegetables and a vegetable-based seasoning packet. The soup cooks in minutes and has 5 servings. It is truly a convenient and nutritious meal solution! Rich in Protein — one box contains 15 grams!
The soup is really easy to make just add 4-1/2 cups of water and it cooks in minutes! It was flavorful and a great vegetarian meal. I added some multi grain crackers and we had a great healthy meat free meal in minutes.
Buy these great
Andean Dream
products from their
online store
and at Whole Foods Markets.
Disclosure

Product was provided for review, no monetary compensation was received. My product review is my honest opinion. Due to the new FTC rules, I was under no obligation to review any product if I so choose, Nor was I under any obligation to write a positive review.

sunrae

Freebie Addict




Posts

: 1781


Join date

: 2010-06-02




---
Permissions in this forum:
You
cannot
reply to topics in this forum