Looking for gift baskets that really represent you and accurately convey your sentiments? Then look no further than
Gourmet Gift Baskets
. If you're tired of the same old gift baskets dropped shipped from a warehouse, then you'll love our handmade gift baskets made with award-winning, critically acclaimed gourmet foods. We painstakingly select each ingredient that goes into our gift baskets so that we guarantee that we make the planet's best gift baskets. The distinctive style of Gourmet Gift Baskets has helped us build a reputation of superior quality products where every gourmet gift basket is a masterpiece.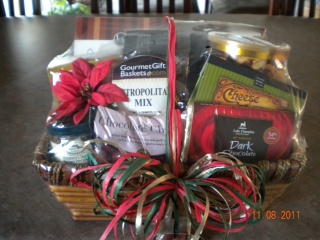 The Review

Gourmet Gift Baskets generously sent me the
Christmas Gift Basket Classic™
for review. It came wrapped in clear plastic with a festive ribbon.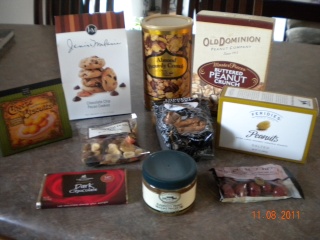 Inside the beautiful basket:
· Almond Pecan-dy Crunch by Morley Candy Makers
- 9.25 oz. - This ultra-luxurious candy crunch is made by covering gourmet popcorn and pecans in a rich, smooth caramel glaze.
· Chocolate Chip Pecan Cookies by J&M Foods
- 6 oz. - Made with only the finest of natural ingredients, these cookies will satisfy even the most discerning chocoholic.
· Dipping Pretzels by East Shore Specialty Foods
- 6 oz. - These extraordinary pretzels are the perfect unsalted snack!
· Robert Rothschild Farm Raspberry Honey Mustard Pretzel Dip
- 7.8 oz. - This gourmet raspberry honey mustard dip adds a flavorful zing to pretzels, and goes especially well with the East Shore Specialty Foods Dipping Pretzels that we have included in our Gift Baskets for Christmas.
· Salted Peanuts in Box by Feridie's
- 7 oz. – Only the finest peanuts, flavored with salt, these gourmet snacks are just as Mother Nature intended.
· Signature Dark Chocolate Bar by Lake Champlain
- 3 oz. - This decadent and complex dark chocolate bar will satisfy the cravings of even the most discerning chocolate lover.
· Buttered Peanut Crunch by Old Dominion Peanut Company
- 10 oz. - This flavorful peanut crunch is made with only top of the line gourmet peanuts, brown sugar, and "AA" grade butter. Taste them and you will understand that the best ingredients create the best peanut crunch!
· Metropolitan Trail Mix by GourmetGiftBaskets.com
- 4 oz. - Our proprietary blend of nuts and dried fruit is a delicious and surprisingly healthy snack.
· Parmesan Artichoke & Garlic Cheese Biscuits by Salem Baking Company
- 1.5 oz. - These crumbly biscuits will melt in your mouth leaving a trail of flavor to be savored.
· Chocolate Covered Cherries by Marich
- 2.3 oz. - These indulgent gourmet chocolate covered cherries are one of the favorite snacks in our line of
Holiday Gift Baskets
.
My favorite were the
Chocolate Covered Cherries (shown in picture above)
- dried sweet, tart cherries covered with chocolate and cherry fruit pastel coating. I could not stop until I had eaten them all.
The
Parmesan Artichoke & Garlic Cheese Biscuits
were crunchy with a good cheese flavor. I enjoyed these with a bowl of tomato basil soup - they were the perfect compliment.

Metropolitan Trail Mix
was a great combination of dried fruits and nuts. This was my breakfast for 2 days in a row and I really enjoyed the combination of sweet, chewy and nut crunch. A great healthy way to start your day.
My hubby particularly liked the
Dipping Pretzels & Raspberry Honey Mustard Pretzel Dip
. He said it was spicy and sweet just great with the pretzels.
The
Buttered Peanut Crunch by Old Dominion
reminds me of old fashioned peanut brittle just in chucky form. Very peanuty and delicious.
And after all the goodies are gone you still have this beautiful basket that can be used for a variety of different things.
Check out the
Christmas Gift Basket Deluxe™
you will defiantly make someone's holiday extra special.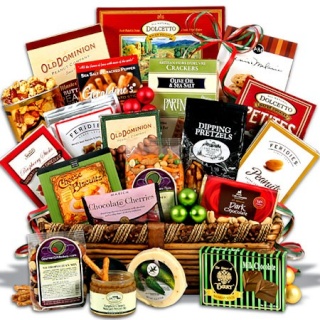 Each
Christmas Basket
contains a variety of award-winning gourmet snacks that appeal to a wide variety of tastes. So, if you want to send a gift that everyone will love, send one of these delicious
Christmas Gift Baskets
!
You will not believe the variety of baskets they have available
Corporate Gift Baskets
Wine Gift Baskets
,
Fruit Baskets
,
Sympathy Baskets
,
Snack Gift Baskets
,
Healthy Gift Baskets
,
Gourmet Food Gift Baskets
,
Breakfast Baskets
,
Beer Baskets
,
Holiday Baskets
and the selection goes on and on!! Gift Baskets can include Chocolate, Fruit, Steak, Pizza, Tea, Cookies, Wine, Coffee and so much more! There are so many options available to make a perfect gift basket .
You'll love the great customer service and wonderful gift baskets from GourmetGiftBaskets.com!
New Year's Eve will be here before you know it and they have several baskets perfect as hostess gifts.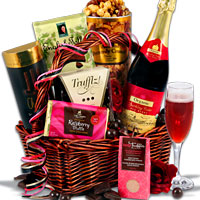 Buy Gourmet Gift Baskets from their
online store
.
You can connect with Gourmet Gift Baskets on
Facebook
&
Twitter
.

Disclosure
Gourmet Gift Basketsprovided me with a free sample of this product to review, no monetary compensation was received and I was under no obligation to review it if I so chose. Nor was I under any obligation to write a positive review.

sunrae

Freebie Addict




Posts

: 1781


Join date

: 2010-06-02



I have been seeing this on other blogs. It looks like a great basket full of goodies.

Darth Vapor

Freebie Addict




Posts

: 1618


Join date

: 2010-06-10


Location

: CA



ooo very nice!!
Great gift idea!!
Thanks a ton for the awesome review

flameworker

MODERATOR




Posts

: 9033


Join date

: 2009-07-22


Age

: 39


Location

: Nor-Cal



Very nice gift idea, wouldn't mind having one for myself.

betlou

Freebie Expert




Posts

: 2981


Join date

: 2011-03-15


Age

: 69


Location

: North Carolina



These baskets make for some awesome gifts!!

cin_20

Freebie Expert




Posts

: 2268


Join date

: 2009-10-04


Age

: 56


Location

: Tennessee




---
Permissions in this forum:
You
cannot
reply to topics in this forum